Taking the Art Walk at Madhavan Nayar's Museum of Kerala History's Art Gallery at Kochi
I had attended few walks by Sahapedia before. When Facebook showed that they were having another one, this time with the words 'art' and 'history' in them, I immediately applied.
The story of the Art Walk is a brief story of modern Indian painting itself. Starting from a comparison of old paintings of gods and goddesses, to the same done by Raja Ravi Varma, the walk took us through the major movements in the history of modern Indian paintings.
We were masterfully led through all the stories by a young, vibrant and well-informed artist Aditi Nayar, the grand-niece of the founder of the museum, and who now also acts as its Director.
Untying The Laces
Of the various main sections of the Museum of Kerala History, as the name suggests, the Art Walk is concentrated on the last building in the complex, which is the Art Gallery. We started with an introduction to the founder Madhavan Nayar, and how the museum came about, which was followed by Aditi and all of us introducing ourselves.
My First Ever Raja Ravi Varma Painting
Perhaps this is the first time ever that I laid eyes on an actual painting by Raja Ravi Varma. Yes they have one of them there and it was a privilege to see it.
Aditi showed us printouts of how Goddess Saraswati was painted in Kalighat, Mysore and so on, and then went on to show us how Ravi Varma used European realism to make his paintings of Saraswati that we have now come to recognise. It was for the first time I really saw why Ravi Varma's paintings stood out and why his paintings created a ruckus.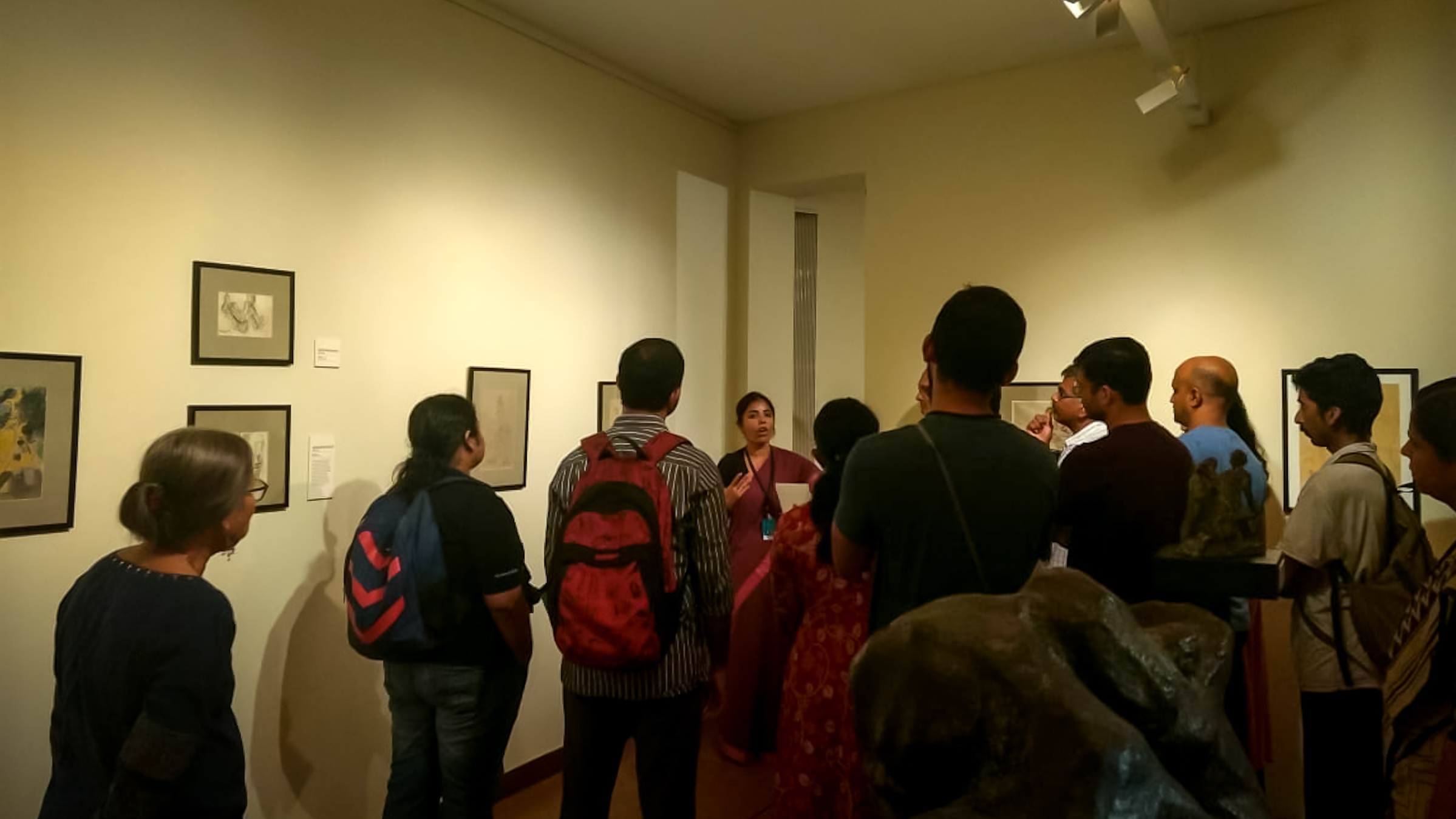 Bengal School of Painting
Moving onto the next room, we walked into the Bengal School of Painting, which drew on traditional stories of India, that were influenced by Japanese and other Oriental Arts, but not by western influences.
These artists were all associated with Shantiniketan and Government Art's College at Calcutta. They stuck together, communicated, and practiced living and breathing their art. Aditi here again showed us a printout of a painting by Nandalal Bose that adorns the Constitution of India. She went into more detail here showing us printouts of various artists who belonged to this movement.
MF Husain & The Progressive Art Group
The next room we walked into held paintings from The Progressive Art Group. This movement wanted not to focus on Indian Art as all the previous ones did, but wanted to look at identity, the human body, and so on. Topics which were till then unexplored.
The group came into being post independence, and so had access to the whole world. They were influenced by the like of Picasso and other Europe painters. As a group, they lasted for only 3 years.
From this movement came the highest auctioned Indian painting ever, of which Aditi showed us a printout of.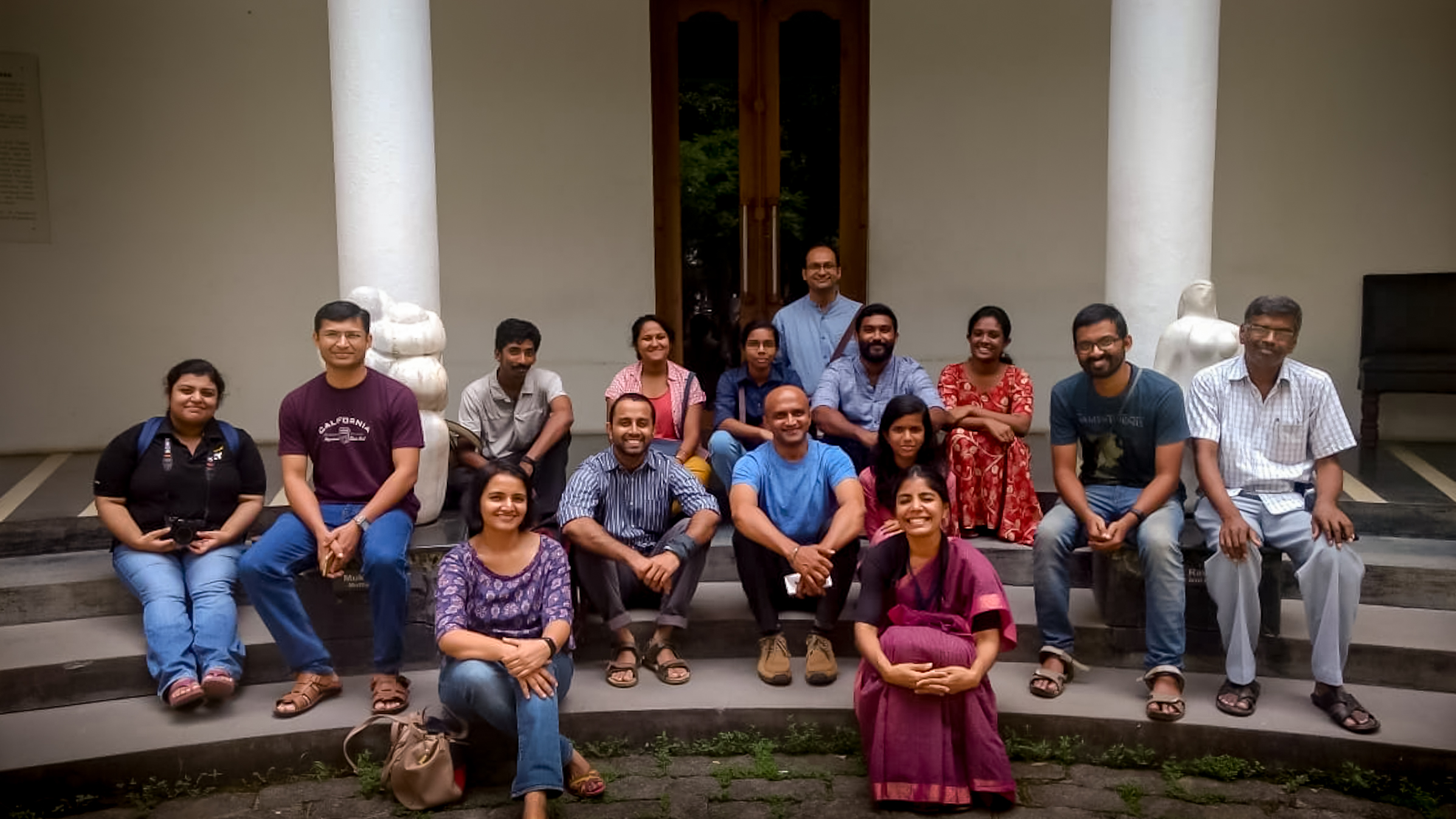 Concluding
What I talked about here is just from the three rooms of the first gallery. There are three more galleries, with their own three rooms, each taking us closer to contemporary Indian Art. All of it is something to be experienced through your own senses.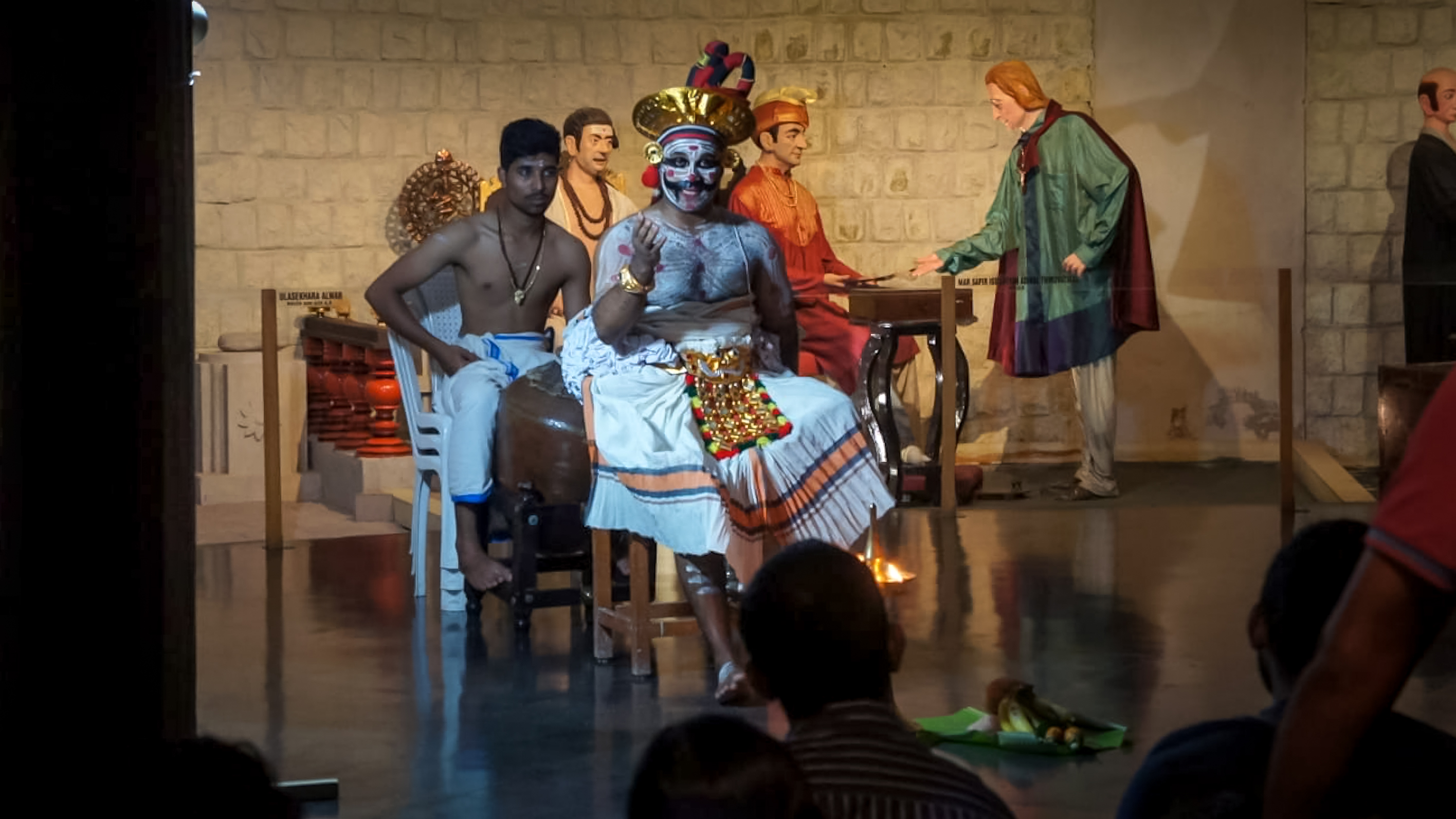 Would I recommend spending ₹150 to take this walk? Definitely (BTW, ours was a sponsored event by Axis Bank's CSR initiate and hence free). And take your kids too. If you don't have any, take your uncle's or sister's with you. For anyone who is even remotely interested in art, this will be a well spent hour (We were an inquisitive bunch and we ended up taking over an hour and half).
For more information visit keralamuseum.com or their Facebook page. To organise an Art Walk, call Aditi at 9562522288.